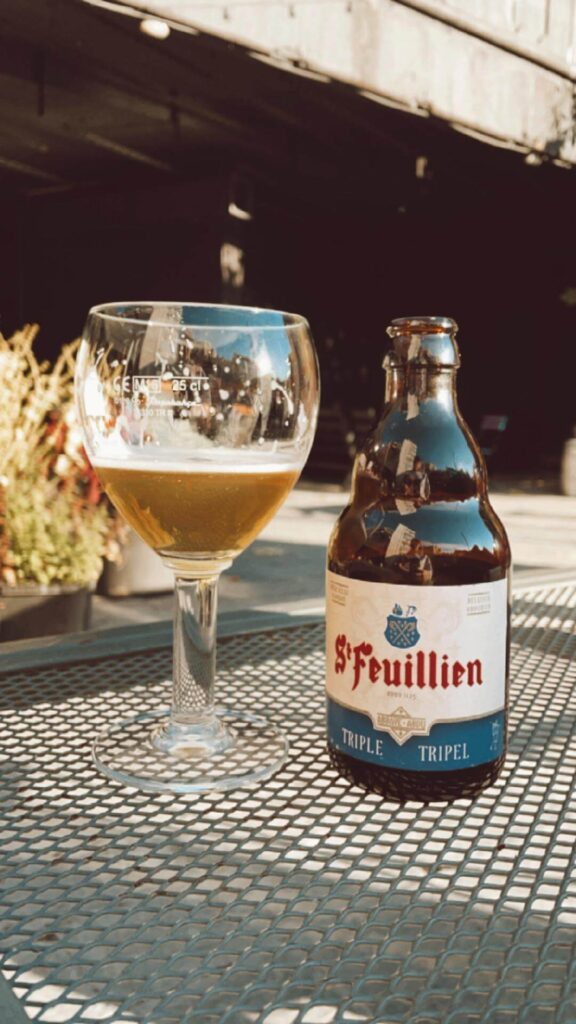 St - Feuillien Triple Review
St – Feuillen Triple is a beer from a brewery with a long tradition.  It's a true representative of a Belgian Triple style of beer. 
Pouring St Feuillien in the glass, the first thing you notice is its foamy, compact head with a good retention that is gradually settling off leaving creamy edges. Bubbles are lacing like pearls in the right glass, that is tulip glass. 
St Feuillien Triple is quite nuanced on the nose. The first sip reveals complex maltiness, followed by floral and fruity aroma. 
Spices are notable too, alongside the orange peel, and easily recognizable banana.
The taste fulfils the expectations we've got "on the nose". St Feuillien Triple is surprisingly fruity giving away apple, banana, and pear not leaving behind a pleasant bready sweetness. 
Spicy, peppery finish with a long-lasting, beautiful aftertaste, perfectly balanced between strong bitterness and sweetness. 
The high alcohol  percentage- 8.5% is impressively well-integrated.
St Feuillien Triple is medium to full-bodied beer, pleasantly carbonated with tickling bubbles on the palate.
Very well-balanced beer that is not a surprise for a brasserie with a tradition that lasts since 1973. 
Do you prefer Triple style of beer? Have you tasted St Feuillien Triple or any other beer of this brewery or this style? Would you like to share your review? 
There are no reviews yet. Be the first one to write one.