Have you ever ended up in a bar, beer brewery, or taproom feeling a bit more adventurous than usually wanting to taste a new type of beer but couldn't decide which one to go for?
When tasting a new beer, there's always a tiny risk and you definitely don't want to end up with a pint of beer you don't really like. In this case, a flight of beer would be a perfect choice!
It might sound weird and seem like it has no connection to beers whatsoever, but it actually the best way to taste multiple beer styles in just one visit to a bar, brewery, or taproom especially if you've just got into the beers and looking to taste some beers for beginners.
When I first came across craft beer, it was fortunately in a company of a beer connoisseur, I didn't even know what is Kolsch, not to mention Sour Beer or Goose. Fortunately, I discovered so-called Beer flights, or you can just easily call them beer tastings. If you ever did a wine tasting, it's more or less the same thing, just in case of a beer less posh.
Why is it called a beer flight?
You're probably wondering how did a word flight ended up in this combination of words. Well, nowadays under the explanation of the word "flight" in the dictionary you can find "a selection of small portions of a particular type of food or drink (especially alcohol) intended to be tasted together for the purpose of comparison", but it wasn't in use as such before the late 1970s. It looks like it first came in this interpretation from Merriam-Webster dictionary as, "a group of similar beings or objects flying through the air together." 
What is a beer flight?
A beer flight is probably the best way for your taste in beers to evolve, expand and discover your new favorite style.Many bars and breweries today offer flights of beer which is generally selections of draft beer from their taps.
A beer flight is simply a lineup of four to six beers often ranging from lightest to darkest served in small glasses that can range from 2 to 6 ounces. 
Typically, it's recommended that you start tasting beers from lightest to darker ones so the transitions from lighter flavor to stronger and more intense flavors go smoothly. This way of tasting ensures you feel every beer's tasting note to its fullest. If you switch back and forth between light and dark beers your palate might be dominated by the richer flavor of darker beers and you might not be able to feel all the flavors of the lighter brews.
Though it's not entirely true that darker beers are stronger in flavor. They just tend to be fuller in body and often more rich in texture. If you're looking for a beer tasting inspiration, take a look at our suggestions for the best beers for beginners. You might find just a perfect one. 
What are appropriate tasting glasses for a beer flight?
As I previously mentioned, the glasses used in beer flights can range from 2 to 6 ounces and they can be different shapes. The most common is single shape, small-sized, pint-like glass.
But as the beer scene changes, serving beer in a variation of glass shape becomes more and more common practice. 
Although I, personally prefer a snifter as it directs the aroma toward the nostrils, the best for tasting purposes would be to use a proper mini glass for every style, in a smaller version of course. But we can only talk about that for now.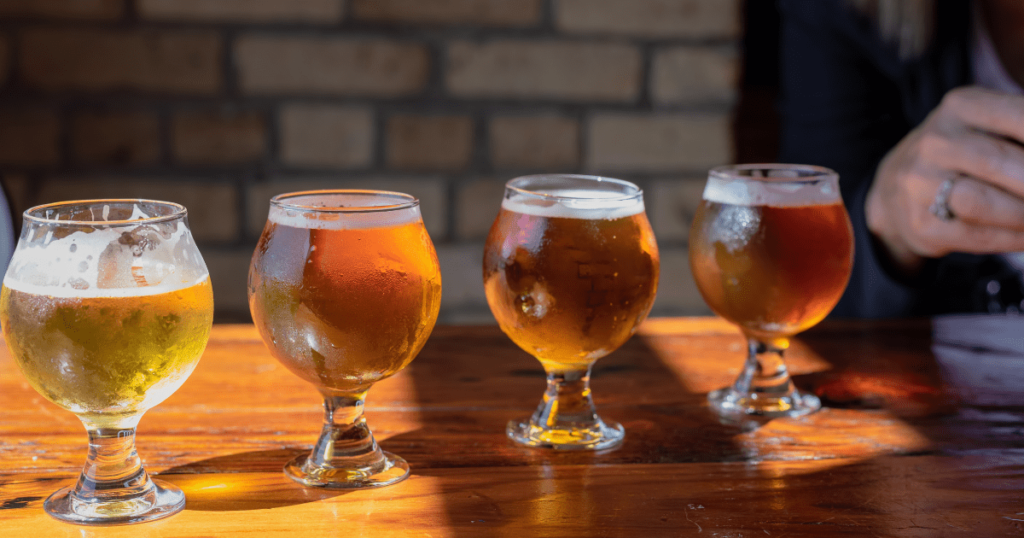 What are the types of beer flights?
single style beer flight
You might have found your perfect style of beer that happens to be the only one that fits your palate. But, believe me, even in a single style category, you may find a new beer that will blow your mind even though you might have thought you've tasted them all and they're all more or less the same. That can especially be the case now that the craft beer industry is rising. 
So, you might be fond of a particular beer style like lager or IPA and still be exploring further. For example, you might be able to taste several different IPAs and decide what is your new favorite.
horizontal beer flight
I'd say this is the most common type of beer flight in taprooms. The reason is obvious. You get to taste few beer styles of the same brewery and they will obviously be serving the beers they created. If you discovered a new local brewery, a horizontal beer flight might be the best way to taste more of their beers in only one visit. 
Though it's not only limited to breweries. You can do a horizontal beer flight in a home atmosphere. I remember being blown away with the first IPA I've ever tried – Brew Dog's Punk IPA and I wanted to try all of their IPAs. So, I've created a Single Style Horizontal Beer Flight for myself and the friends and have made it an enjoyable experience. I must say that Mallow Laser Quest won first place in my eyes. 
vertical beer tasting
Remember that I mentioned Beer tastings being less posh than the wine tastings. Well, that's not the case here.
Vertical beer tasting implies tasting different vintages of the same beer. Wines that are age-worthy are rare indeed, but not as rare as beers that can age well and gain complexity over the years. Here I must mention Porters and many Belgian beers that may really have the potential to evolve over time. It's a really rare and unusual event – a true gem.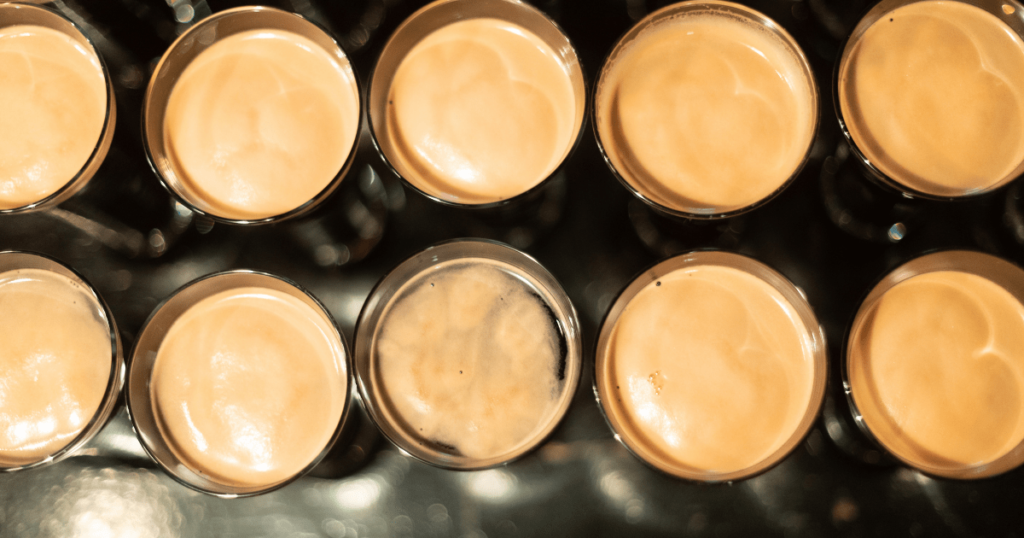 home beer flights
You don't even need the fancy environment of the bars, pubs, taprooms, or breweries. You can create your own beer flight plan, you can share tasting notes and sensations you're getting from the beers.
The best thing about the Home Beer flight is that – You're absolutely in charge! You have all the control and the choice is all yours. You can have all the fun you want.
You'll just need a few things ready. It's the paddle where you have all the beer glasses with different beers lined up, a piece of paper and a pen if you want to write down your thoughts and tasting notes on a particular beer, and the last, but the most important – you have to have your tasting buds ready and your mind opened for new things to try.